I had to participate this week since I have much to be thankful for and I felt listing it out would be the easiest way to share :)
1. I'm so thankful that I was able to come with all 5 kids to Florida for 5 weeks.
2. I'm thankful that my parents watched the kids while Kirk and I went to Colorado.
3. I'm very thankful that all of the kids were safe in the pool - no one drowned, no one got hurt. This is always just an enormous blessing.
4. I get to see my husband tomorrow for the first time in 3 weeks! I know it may not be a long time to some people but it is a long time for me and I'm excited to be back home with him. The kids haven't seen him in 4 weeks. They haven't been too concerned. Julianna just says "daddy at work" and every once in a while Alyssa will come up to me, rub my arm and say "daddy be back". I think she's trying to comfort me and herself :) I know they will all be thrilled to see him again.
5. I'm glad my parents are driving me back and staying with me in VA for another week so at least I don't have to say goodbye tomorrow. How does 5 weeks go so fast?
6. I'm thankful for all the work Kirk has done while I've been gone. It may not be everything he had hoped but I know he's gotten a lot done and worked very hard on the house and I appreciate it.
7. For my parents and my brothers and my sister-in-law and the friends I have here in Florida - just the chance to see them again has been wonderful.
What I'm not so thankful for is the fact that tonight is the girl's last night in beds that have sides. Oh my word I'm not ready!! Today I put them all together for nap so I could pack and the results were nothing short of nightmarish. They just talked and talked and fought and traded and whined. When I came in to get them up Alyssa was out of her bed and running around and Julianna was just about to follow her. I can only imagine the damage and destruction that awaits me by next week.
And of course it's always sad to say goodbye to my parent's house. At least not my parents yet but it's goodbye to the private pool which we all miss and summer's barely even started!!
So, if you think of it please pray for us as we travel from FL to VA (about 900 miles) in one day with five kids and 3 adults all in one van. And somehow we manage to fit!!
Want to play along?
>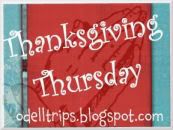 >