Now don't I feel even more special? My new friend, Karen, at
Lil Momma's Haven
has nominated me for a coolest blog award! Check out Karen's blog - you will LOVE her journey to motherhood story - it's so awesome. And she's a cool person herself. :)
The Fabulous-Coolest Butterfly Blog award comes with a few rules: Put the logo on your blog and link it back to me. Nominate 5-10 blogs which you think are fabulous and cool. Be sure to link to your nominees within your post. Let them know that they have received this award by commenting on their blog. Share the love and link it back to this blog.
A while back I got a Fabolous Blog Award and nominated five fabolous blogs :) This time around I will make some new nominations for those of you have very cool blogs:
Mary Beth at
Four Silly Sisters
Cadi at
Triple Blessings + One
Cherie at
It Takes More Than An Egg...
Candace at
hickey-family-party-of-5
Angie at
The Dunbar Triplets
Thanks you guys for your very cool blogs! I enjoy reading them and look forward to more great posts!
On another note - please pray for this family: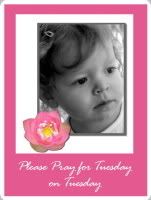 They lost their daughter, Tuesday, last night to cancer - she was 2 years old - just one month older then my girls. She leaves behind her parents, 2 big brothers and her twin sister, Piper. I can't imagine their pain. I would be lost without all of my children so please add them to your prayers. The Lord gives and the Lord takes away, blessed be the name of the Lord.